Helsell Fetterman Welcomes Victoria Wei
---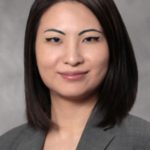 Victoria Wei has joined Helsell Fetterman's trust and estate litigation, elder law and commercial litigation practice groups.
Vicky graduated from the University of Colorado at Boulder where she earned her undergraduate degree, magna cum laude, in Political Science and International Affairs. Following graduation, she taught 7th Grade English to inner city children in Las Vegas, Nevada with Teach for America Corps, all while earning her Masters of Education from the University of Nevada at Las Vegas. In 2018, Vicky went on to earn her J.D. from the University of Washington School of Law, where she was the Chief Comments Editor of the Washington International Law Journal and a member of the Technology Law and Public Policy Clinic.
Vicky joins Helsell Fetterman after practicing at a Pacific Northwest regional firm where she advised businesses and individuals, primarily in the areas of intellectual property, employment, and white-collar defense.
Vicky is a member of the Washington State and Asian American Bar Associations and speaks conversational Mandarin.