Helsell Fetterman Welcomes Jenica Cassidy
---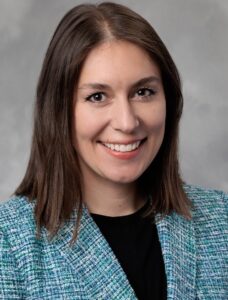 Jenica Cassidy has joined Helsell Fetterman — a Seattle-based law firm serving businesses, organizations, and individuals. Jenica is part of the firm's Trust and Estates Litigation and Estate Planning practice groups.
Jenica helps individuals and their families plan for the future and resolve legal issues relating to aging.  She also works with health care facilities and their residents to secure benefits to pay for the cost of care.  She is a frequent speaker and author, presenting and writing on guardianship issues for the National Aging and Law Conference, The American Bar Association Commission on Law and Aging, and The Elder Law Journal.
Prior to moving back to home Seattle, Jenica practiced in Maryland and the District of Columbia where she has been recognized by Best Lawyers in America as One to Watch in Elder Law and Trust and Estates since 2021 and listed as a Rising Star by Maryland Super Lawyers since 2021.
Jenica graduated from Wake Forest University of Law in 2014. While in law school, Jenica was a summer associate with Wechsler Becker, LLP in Seattle. Prior to law school, she attended the University of Oregon and graduated in 2009 with a B.A. in Journalism.