A Life Lived with Purpose and Dedication
---
Richard S White, One of Seattle's Legendary Legal Leaders: 1920 – 2012
What defines a man of greatness? Is it his commitment to his family—those dearest to him? His service to his country? Or his extraordinary dedication to his community?
Giving fully to his family, country and community until the age of 92, Richard S. White lived his life with purpose. Those in Seattle's legal community remember him as a giant in litigation.
Before journeying west from his birthplace in New York City and his alma mater, Yale Law School, Rich joined the Marine Corps in World War II. He studied Japanese at the US Navy Language School in Boulder, Colorado. A Marine combat intelligence officer, he served with the 28th Marine Regiment which captured Mount Suribachi on Iwo Jima.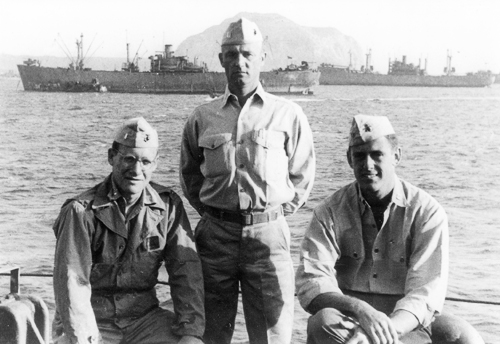 Rich played a vital role in the battle with his interpretation of a captured Japanese map disclosing details of defenses on Mt. Suribachi. He won a Bronze Star for his efforts in talking Japanese soldiers out of their caves (oral advocacy at its best).
After surviving wartime Japan and completing his studies at Yale Law School, Rich was ready for his next adventure—"the wilds of Pacific Northwest." Rich joined the Seattle law firm of Helsell Paul Fetterman in 1952.
For the next six decades, Rich's distinguished career focused on construction, utilities and antitrust work. His important antitrust cases included resolutions in the flour, sugar, milk, telephone, beer, whiskey, beef, sports, timber, mint oil, peat moss and cruise ship industries, among others.
Two colleagues at Helsell Fetterman remember Rich:
I joined Helsell 27 years ago in January of 1985. Ron Mentele told me I would be joining a firm with some partners who were truly outstanding gentlemen of the law. I met some of them in Paul Fetterman, Russ Hokanson, George Martin, Bill Helsell and of course Rich. It did not take me long to realize that these gentlemen set some very high standards to meet. Each in their own way welcomed me and made me feel at home here. Rich was to me an amazing man and a brilliant lawyer. He was so down to earth but so smart. He seemed always to be at the books, finding the answer no one else could. He reached out to everyone. His work ethic was a constant reminder of how fortunate we are to be able to work in this profession. His high standards will be tough to follow, but we owe it not only to ourselves but also to his memory to keep on trying.
There are so many things that we will miss about Rich—his integrity, wisdom, intellect, character and history, to name a few. But what we will miss most are his wit and how he greeted each and every one of us with his warm smile. And for a man who mastered the English language like no one I have ever seen, how can we forget Rich's trademark "YOWZA!"?
Following a short illness, Rich died on January 17, 2012 surrounded by his loving daughters. He was preceded in death by his first wife Kathrin (Kaki), his second wife Sue, and his daughter Ann.
A scholarship was established in 2010 by Helsell Fetterman in honor of Rich and his desire to encourage diversity in the study of law. The Richard S. White Fellowship is awarded to a second-year law student, in good standing, that demonstrates a commitment to enrich the diversity of the legal community.