Mask Up, King County!
---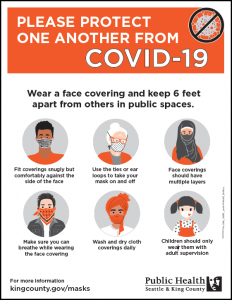 Starting Monday, May 18, 2020, everyone in King County, Washington must wear cloth face coverings over their noses and mouths while at (a) "indoor public settings," and (b) "outdoor public locations" where six feet of physical distancing from another person cannot be maintained.  This is the written directive of Dr. Jeff Duchin by virtue of his powers as the Local Health Officer of Seattle & King County Public Health, issued on May 11, 2020 (the "Directive").  This article explains the Directive and what it means for businesses in King County.
The Requirements
The required face covering is a fabric covering, such as cloth face masks, scarves, bandanas, and the like.  Any other material recommended by the Centers for Disease Control and Prevention (CDC) is permissible too.  Medical-grade face masks, such as the N95 mask, are not required.  In fact, to conserve such masks for health care professionals, Dr. Duchin urges the use of the fabric face coverings, unless a particular health reason requires use of a medical-grade mask.
Cloth face coverings must be properly worn over the nose and mouth, and must be safely used to avoid contaminating the user's face and hands.  Dr. Duchin urges users to clean their hands with soap and water or with alcohol-based hand rub before donning and immediately after removing the face covering.  Users should avoid touching their face coverings while in place and should wash them after each use.
There are individuals who are exempt from wearing face coverings under Dr. Duchin's directive.  Any child aged two years or less and any child aged 12 years or less without parent or caregiver supervision need not wear a face covering.  Any individual who has a physical disability preventing easy wearing or removing a face covering, or who is deaf and uses facial and mouth movements to communicate, or who has been advised by a medical professional that wearing a face covering may pose a risk to the individual's health, is exempt from wearing a face covering under the Directive.  Any individual who has trouble breathing or is unconscious, incapacitated, or otherwise unable to remove the face covering without assistance is also not required to wear a face covering.
The face covering Directive applies to any "indoor public setting."  It also applies to any "outdoor public location" where you will be within six feet of another person who is outside your household.  However, the Directive does not define "indoor public setting" or "outdoor public setting."  There are locations that obviously meet these definitions, but there is even greater ambiguity as to other locations.  The Directive lists examples of areas in which face coverings must be worn.  These include grocery stores, pharmacies, and other retail that sells food and beverage products, including convenience stores, liquor stores, farmers' markets, food banks, farm and produce stands, supermarkets and other big box stores that sell groceries and essentials (like Target).  Indoor public settings also include commercial retail stores that supply "essential sectors," including pet supply stores, auto supplies and repair, hardware and home improvement stores, garden stores and nurseries, office supply stores, and home appliance retailers.  Restaurant carry-out and quick-serve ("grab and go") operations and cannabis, dietary supplement, and tobacco and vape retail stores are also included; as are buses, light rail, trains and other forms of public transportation.
Dr. Duchin advises that use of face coverings does not replace the need to practice physical distancing, to avoid all non-essential activities, to frequently wash your hand, and to avoid touching of the face.
No Penalty for Violators
Violation of the Public Health Directive does not create grounds for law enforcement to stop, detain, cite, arrest, intimidate, or harass any individual out of compliance.  The Directive should, in Dr. Duchin's words, be "used to educate, encourage, and persuade individuals to wear face coverings."
Requirements for Businesses
The Directive is aimed at individuals who leave their shelters for outdoor recreation or for essential items.  The Directive does not require businesses to enforce the Directive, such as by denying entry by a customer without a face covering.  Of course, the Directive gives greater authority to those businesses now insisting that customers wear face coverings before they may enter, provided that the business's rule is consistently applied to all customers.  The Directive does not impose any other requirements on private businesses that may own or operate an indoor public setting or an outdoor public location, with two important exceptions.
First, restaurants and other food operations must require those workers involved in food preparation, carry-out, or delivery to wear face coverings while engaged in such operations.  Most engaged in such food operations are already wearing face coverings, but now it is the law in King County.
Second, "[a]ll commercial establishments in King County are directed to post signage advising individuals to wear face coverings on the premises."  This second requirement is rather vague in its scope.  On its face, it would appear to apply to all businesses in King County, even though the Directive is limited in application to indoor public settings and outdoor public locations.  Of course, most businesses in King County are supposed to be closed currently.  Under Governor Jay Inslee's Safe Start Washington plan for reopening business in the state, King County is still in  "Phase 1," where only essential businesses, some construction, elective surgeries, vehicle and vessel sales, curb-side pick-up retail, car washes, landscaping, and pet walking are currently permitted to operate.
The face covering signage to be posted by businesses in King County, along with further information, are available for download and printing at http://www.kingcounty.gov/masks.
Duration of Directive
The Directive will not expire until Dr. Duchin determines there is no longer a need for face coverings due to COVID-19.
Moving Forward into Phase 2 of the Safe Start Washington Plan
It is unclear when Governor Inslee will move King County to Phase 2 of his Safe Start Washington reopening plan.  It cannot be until May 26, 2020 at the earliest, and Governor Inslee is now saying publicly that it likely will not be by June 1, 2020.  When King County does move to Phase 2, we expect that Dr. Duchin will update his Directive on face coverings to expand the locations where face coverings are required by increasing the scope of "indoor public settings" to a greater number of private businesses.  In Phase 2, provided that certain prerequisite requirements are met, a multitude of businesses may reopen, including limited in-store retail stores, limited-operation restaurants and taverns, hair salons and barbers, nail salons, other personal services, professional services, and pet grooming.
The question for Phase 2 will be whether Dr. Duchin requires face coverings on customers inside restaurants, barber shops, nail salons and the other businesses that will reopen in Phase 2.  We are closely tracking the directives of King County Public Health and will issue an updated blog in the event the face covering Directive is extended to Phase 2 businesses.
In the meantime, if you would like to learn more about the Safe Start Washington plan and the requirements businesses face in reopening and operating during the COVID-19 pandemic, please register and attend the free Zoom webinar we are presenting on Thursday, May 21, 2020 at noon.  Click here to register and to submit the questions you would like us to answer during the webinar.
You may also email Scott Collins at scollins@helsell.com with any questions you may have about King County Public Health's Directive.