Llewelyn Pritchard Receives Outstanding Service Award
---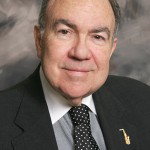 On Saturday, February 6, 2016, at the Fellows of the American Bar Foundation (ABF) 60th Annual Awards Reception and Banquet, Llew Pritchard received the 2016 Outstanding Service Award.
The ABF is the nation's leading research institute for the empirical study of law, legal institutions and legal processes.  The Fellows of the American Bar Foundation is an honorary organization comprised of the less than one percent of practicing attorneys, judges, law faculty, and legal scholars who have been elected by their peers for their outstanding achievements in the legal profession.
Llew is an ABF Life Fellow and he helped establish a minority scholarship program at the King County Bar Foundation, which has provided more than $2 million in scholarships to minority law students to date. He served as chair of the American Bar Association's Standing Committee on Legal Aid and Indigent Defendants, and he is an active board member of ABA's Rule of Law Initiative (ROLI) and Center for Human Rights.
The Outstanding Service Award is given to a Fellow who has in his/her professional career, adhered for more than thirty years to the highest principles and traditions of the legal profession and to the service of the public.