Washington's "Start Safe" Plan for Reopening Business
---
On May 4, 2020, Washington Governor Jay Inslee extended the restrictions set forth in his Stay Home-Stay Healthy proclamation through May 31, 2020, and released a Start Safe Washington plan that reopens the state's economy in four phases.  Under this phased reopening plan, some businesses may reopen as early as Tuesday, May 5, 2020, although most businesses will remain closed for at least another three weeks.  Governor Inslee also declared that ten, less-populated Washington counties may apply for an immediate acceleration to the second phase of the reopening plan.
The Start Safe Washington plan (click here) outlines a data-driven approach that Governor Inslee will apply as he considers moving from one phase to the next in reopening Washington's economy.  More importantly for businesses, the plan sets forth a lengthy list of requirements for all employers that are in addition to requirements developed specifically for a business's industry.
This article summarizes the Start Safe Washington plan and what it means for businesses anxious to reopen.  The decision to extend the Stay Home-Stay Healthy prohibitions and the adoption of the Start Safe Washington plan were made by Proclamation (No. 20-25.3), dated May 4, 2020, Adjusting and Extending Stay Home-Stay Healthy (the "May 4 Proclamation").  Click here to read the May 4 Proclamation.
The May 4 Proclamation
The May 4 Proclamation addresses a full range of activities in Washington, including spiritual and religious services and outdoor recreation.  The statements in the May 4 Proclamation that relate to reopening business in Washington are the following:
The Governor's Stay Home-Stay Healthy Proclamation (No. 20-25) issued on March 23, 2020, is amended to extend all of the prohibitions and each expiration date therein to May 31, 2020, except as set forth in the May 4 Proclamation.
A phased-in approach as set forth in the Start Safe Washington plan (summarized below) is established to reopen Washington state.
Washington counties with a population of less than 75,000 that have not identified a resident with COVID-19 during the three most recent consecutive weeks, may apply to the State Department of Health for an exemption from certain prohibitions.
"Low-risk activities," including vehicle and vessel sales, landscaping and lawn care, pet walking, curb-side pick-up retail, and car washes, are permissible during Phase 1 of the Start Safe Washington plan, provided such businesses are able to fully comply with industry-specific requirements that will be issued no later than May 15, 2020. Such requirements will, at a minimum, require compliance with social distancing and hygiene requirements issued by the State Department of Health.
In collaboration with the State Department of Health, Governor Inslee will continue to analyze data and epidemiological modeling and adjust the Start Safe Washington reopening plan as appropriate in his view.
Violators of the May 4 Proclamation may be subject to criminal penalties; and if people fail to comply with the required social distancing while engaging in phased modifications of mandatory social distancing requirements, Governor Inslee may reinstate the prohibitions established in earlier proclamations.
Start Safe Washington Plan
The Start Safe Washington plan is a data-driven approach that Governor Inslee, in collaboration with the State Department of Health, will implement to reopen Washington.  The plan is designed to reduce the risk of COVID-19 disease to Washington's "high risk" populations and to preserve the capacity of our state's health care system, while safely reopening businesses and resuming non-business activity across the state.
The Four Phases
The following table shows the four phases of the plan for reopening businesses and resuming activities prohibited by the Governor's Stay Home-Stay Healthy Proclamation.  (Note: the table contains key changes from the table released by Governor Inslee on Friday, May 1, 2020.)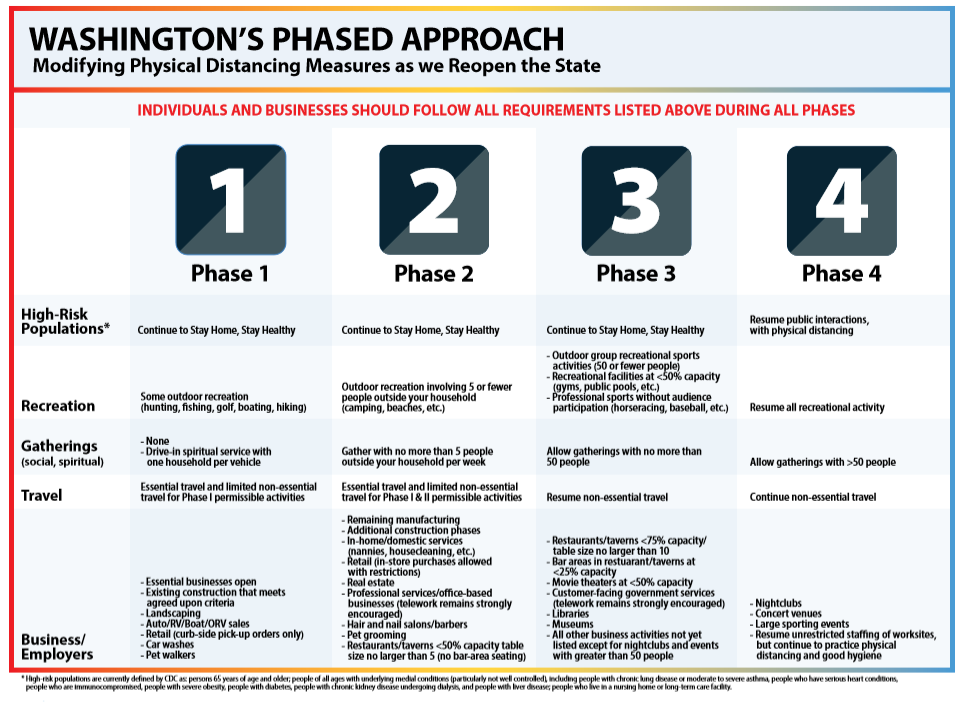 The print in the table is tiny and in case you cannot read it, here are the bullet point lists presented on the line for Business/Employers.
            The Business/Employers list for Phase 1:
Essential businesses open
Existing construction that meets agreed upon criteria
Landscaping
Auto/RV/Boat/ORV sales
Retail (curb-side pick-up orders only)
Car washes
Pet walkers
            For Phase 2:
Remaining manufacturing
Additional construction phases
In-home/domestic services (nannies, housecleaning, etc.)
Retail (in-store retail purchases allowed with restrictions)
Real estate
Professional services/office-based businesses (telework strongly encouraged)
Hair and nail salons/barbers
Pet grooming
Restaurants/taverns <50% capacity/table size no larger than 5 (no bar-area seating)
            For Phase 3:
Restaurants/taverns <75% capacity/table size no larger than 10 people
Bar areas in restaurants/taverns at <25% capacity
Movie theatres at <50% capacity
Customer-facing government services (telework remains strongly encouraged)
Libraries
Museums
All other business activities not listed except for nightclubs and events >50 people
Note: "Indoor gyms at <50% capacity" is omitted from the Phase 3 list although it was included in the table released on Friday, May 1.  For an explanatory story released by the Governor's Office on May 4 in conjunction with the May 4 Proclamation and the Start Safe Washington plan, click here.
            For Phase 4:
Nightclubs
Concert venues
Large sporting events
Resume unrestricted staffing of worksites, but continue physical distancing and hygiene
The very tiny print below the table is linked to the asterisk attached to the High-Risk Populations category.  This is an important footnote because it defines those who are "high-risk," which is a significant definition for businesses calling back their workforces and inviting customers, clients, and guests into their premises.  The chart's footnote reads:
High-risk populations are currently defined by CDC as:  persons 65 years and older; people of all ages with underlying medical conditions (particularly not well controlled), including people with chronic lung disease or moderate to severe asthma, people who have serious heart conditions, people who are immunocompromised, people with severe obesity, people with diabetes, people with chronic kidney disease undergoing dialysis, and people with liver disease; people who live in a nursing home or long-term care facility.
Governor Inslee indicates that the phased approach may be adjusted as the COVID-19 pandemic evolves.  He further indicates that "[a]dditional plans for a phased approach to restarting health care and educational activities are under development."
Length of Each Phase
Phase 1 begins on Tuesday, May 5, 2020.  However, a business identified in the table under Phase 1 may not simply open its doors for business on that date. Two additional requirements must be met.  First, the state must issue guidance and safety provisions specific to the industry in which the business operates.  Such conditions will be to ensure workplace safety and public health in such industry.  Second, the business must demonstrate compliance with such guidance and criteria.  Such requirements have already been developed and are being implemented for construction re-start activity (click here for more information on construction re-start).
It is uncertain when the state will issue guidance and criteria for other industries identified on the table under Phase 1, but Governor Inslee indicates they will be issued no later than May 15, 2020.  Such requirements will, at a minimum, require compliance with social distancing and hygiene practices issued by the State Department of Health.
Governor Inslee, in collaboration with the State Department of Health and local public health officials, will regularly monitor and consider data to assess Washington's readiness for safely moving to the next phase.  In addition to a low and decreasing COVID-19 burden, readiness must be achieved in four areas – healthcare system readiness, testing capacity and availability, case and contact investigations, and ability to protect high-risk populations – as the Governor assesses the state's overall COVID-19 disease activity.  This is where the analysis of data gets complicated and there are multiple data-points that will be considered.
Governor Inslee will require that each phase lasts at least three weeks, to enable him to evaluate the data and the ability of Washington to move to the next phase.  A period of three weeks constitutes one complete disease incubation period plus an additional week to compile complete data and confirm trends.  Governor Inslee warns, however, that we will likely remain in most phases longer than three weeks.  As a result, Washington will not move to Phase 2 until Tuesday, May 26, 2020, at the earliest.
Requirements for All Businesses
In addition to industry-specific guidance and safety criteria, there is a long list of requirements that all businesses must meet, in all phases in which they operate:
Maintain the six-foot physical distancing requirements for employees and patrons. Adopt other prevention measures such as barriers to block sneezes and coughs when physical distancing is not possible for a particular job task.
Provide services while limiting close interactions with patrons.
Provide adequate sanitation and personal hygiene for workers, vendors, and patrons. Ensure employees have access to hand washing facilities so they can wash their hands frequently with soap and running water.
Ensure frequent cleaning and disinfecting of the business, particularly of high-touch surfaces.
Identify personal protective equipment (PPE) and cloth facial coverings in accordance with L&I requirements on facial coverings and industry specific COVID-19 standards. Provide the necessary PPE and supplies to employees.
Identify strategies for addressing ill employees, which should include requiring COVID-19 positive employees to stay at home while infectious, and potentially restricting employees who were directly exposed to the COVID-19 positive employee.
Follow CDC cleaning guidelines to deep clean after reports of an employee with suspected or confirmed COVID-19 illness. This may involve the closure of the business until the location can be properly disinfected.
Educate employees about COVID-19 in a language they best understand. The education should include the signs, symptoms, and risk factors associated with COVID-19 and how to prevent its spread.
On a case-by-case basis, as directed by federal, state, and local public health and workplace safety officials, implement other practices appropriate for specific types of businesses, such as screening of employees for illness and exposures upon work entry, requiring non-cash transactions, etc.
Follow requirements in Governor Inslee's High-Risk Employees – Workers' Rights Proclamation (No. 20-46).
The Start Safe Washington plan expressly refers businesses to a business checklist prepared by Challenge Seattle and the Washington Roundtable as a great starting point for businesses as they prepare for reopening.
The foregoing requirements will remain in place until there is an effective vaccine, effective treatment, or herd immunity.
Parting Shot
At the end of his press conference on Friday, May 1, 2020, after he previewed the May 4 Proclamation and the Start Safe Washington plan, Governor Inslee expressed gratitude for the commitment of Washingtonians to his Stay Home-Stay Healthy Proclamation and the success of our state in slowing the progress of COVID-19 disease.  But he was quick to add that, in his view, the state remains in a "very precarious situation" and, if "lulled into some sense of relief or thinking that we're out of the woods, . . . this [disease] is just going to jump right back up and bite us if we do not continue efforts that are significant and aggressive in our state."  For that reason, he said that he will be prepared to adapt and remain, in his words, "agile and aggressive against this virus."
______________________________
Helsell Fetterman LLP closely follows Governor Inslee's proclamations, guidance and statements on reopening business in Washington and we are available to advise and assist you in tailoring your reopening and operations to meet these evolving standards.  For further information or assistance, please contact Scott Collins (scollins@helsell.com) and Tyler Jones (tjones@helsell.com).